Carl Meiser installs 4-chamber iMaster H2O dyeing unit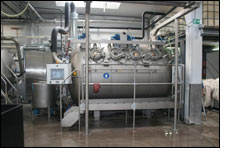 Germany's Carl Meiser GmbH takes delivery of the first Thies GmbH & Co KG 4-chamber iMaster H2O 140/4 dyeing unit following extensive joint collaboration of the new model. Founded in 1965, Germany's Carl Meiser GmbH continues to enjoy an enviable reputation as a 'top of the range' high quality commission dyeing specialist for modern fabrics and technical textiles under third generation family ownership of CEO, Jens Meiser.

Today with two operating companies – one, Meiser know how in Textiles, a 100% service company, produce dyehouse, bleaching and finishing for 'top-edge' ladies, men's and children's lingerie and underwear.

The second, Nopma Technical Textiles, according to Jens, is a 'one-stop-shop' partner for company's seeking to develop and produce solutions with technical textiles for the aviation, automotive, medical and caravanning sectors. Nopma Technical Textiles, was formed in 1999 capitalising on the Meiser 'know how' in an effort to seek new lucrative niche markets.

"Operating independently, there is always a crossover of views and technologies," said Jens, elaborating, "For example, Meiser operate as a dyehouse facility to undertake dyeing and coating for Nopma".

"Both companies work side-by-side sharing knowledge in use and handling of chemicals and equipment."

Meiser work with a wide range of modern fabrics and blends, including polyamide, polyester, cotton, micro model and elastane; including frequent mixes of up to four different yarns together with elastane.

"As a service company we must deliver to the highest quality and on time, all based on customer demand," said Jens.

Customers are generally from around the Albstadt region in Southern Germany, close to the renown scenic Schwarzwald (Black Forest) area, but also include Italy, Austria and Eastern Europe.

"Frequently, the first notification of batch size we get from the customer is on arrival. One day, for example, it could be 50 kg and perhaps 120 kg the next and then 400 kg."

"The unpredictability of batch sizes however, and the increasing demand for smaller batches, meant that we had to approach the marketplace for a low batch capacity machine to meet our exacting demands."

"The nature of our business means that many of our machines are developed or produced by us based on our own experience."

"For this new dyeing machine, even though we have experience with Thies – having a soft-TRD and a more recent roto-stream, purchased in 2001, I have to admit I felt that Thies would not be able to help."

"We felt certain that it would not be possible to work with a company so successful and as large as Thies explaining our special requirements."

"Nevertheless we were pleasantly surprised and very impressed."

"Once we had expressed interest in a 4-chamber unit, the opportunity arose to offer our 'know-how' in such a dyeing unit."

Thies's design team, liaising with Meiser, were able to accept the recommendations throughout the trials of the prototype, including a series of design changes. These included, for example, the instrument inspection system 'wash control' inside the chamber allowing constant monitoring colour measurement throughout the dyeing process, culminating in clear water at the end of the washing cycle.