Quite increase in New York cotton futures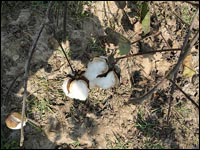 Plexus Cotton Limited reports that NY futures have moved considerably lower since our last report on November 17, with March dropping 518 points to close at 91.30 cents.

The bearish wave, which has been gathering momentum in recent weeks, became potent enough to breach the "Chinese Wall" of support, taking prices to new 14-month lows. The move was all the more impressive since it happened in the face of very strong US export sales, totaling more than 2.5 million statistical bales over a 3-week period. But as the old saying goes - "it's not the news itself that matters, but how the market reacts to the news"!

Interestingly, it was the speculators that were responsible for the selling, as they either bailed out of long positions or added new shorts in reaction to a technical breakdown in cotton and all the uncertainty surrounding the sovereign debt crisis. In the week of November 22, during which the market dropped 10 cents in just three days, large and small speculators sold 11'386 contracts net, while the trade (+10'707 contracts) and index funds (+679 contracts) were net buyers.

After three weeks of stellar numbers, the US export sales report of this morning reflected a more routine course of business during Thanksgiving week, with Upland and Pima sales increasing by just 84'100 running bales net for the current marketing year, while another 19'000 bales were sold for 2012/13.

Although net sales are still growing thanks to China, it is troubling to see that another 35'900 running bales were cancelled in eight different markets, led by Pakistan, Turkey and South Korea. The pace of shipments is also a negative, as just 163'400 running bales were exported last week, bringing the total for the season to 1.85 million statistical bales so far, the slowest pace since 2000. The backlog of outstanding orders now amounts to over 8.6 million statistical bales.

When we look at the current US balance sheet, we have supply for the season at 18.9 million statistical bales (2.6 beginning stocks plus 16.3 crop). From that we need to subtract 10.5 million in export sales (not counting the 1.3 million in 'optional sales) and 3.8 million bales for domestic mill use, which leaves around 4.6 million bales for sale. Although the US is by far in the best shape among exporters, it doesn't mean that holders of unsold US cotton feel less of an urgency to get rid of their remaining bales.

Given that there is no carry in the market all the way out to December 2012 and considering the fierce competition from other origins, holding out for higher prices may not be a winning strategy this season, unless one were to believe that the market will rally enough to pay for the carrying charges.

Fortunately there is the Chinese Reserve, who has been taking a huge load off exporters' and domestic suppliers' shoulders over the last six weeks and who is expected to continue to buy a lot more in the months ahead. As of the Chinese Reserve has procured over 5.0 million statistical bales in the domestic market and probably at least 4.0 million bales in the international market. By absorbing the world's production surplus into its stocks, the Chinese Reserve is acting as a counterforce to the extreme volatility we have seen in the cotton market since the summer of 2010.