100% Made in Italy partnership for XLA elastomeric fiber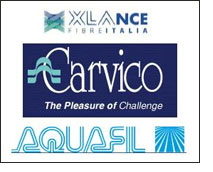 Aquafil, Europe's market-leading and second worldwide player in the production of Nylon 6 for textile flooring, and Carvico, leading manufacturer of warp-knitted stretch fabrics, announced the new XLAnce Fibre Italia Joint Venture.

Following its creation, XLAnce Fibre Italia has completed a transaction with The Dow Chemical Company and its affiliates ("Dow") to purchase the trademarks associated with XLA polyolefin based stretch fiber and to acquire an exclusive license under the related intellectual property for crosslinked polyolefin based stretch fiber for woven and knitted textile articles.

The transaction also includes the acquisition of Dow's XLA fiber production lines, machinery and equipment based in Dow's Tarragona (Spain) site.

In the coming weeks XLAnce Fibre Italia will transfer to Italy the production lines acquired from Dow. The beginning of production is scheduled for the third quarter of 2012.

The new joint venture, 50/50 owned by each company, is strategic for both Carvico and Aquafil as it will allow the re-launch of XLA, a particularly innovative fiber with an important growth potential.

Two Italian worldwide leading groups, within the chemical-textile industry, that always stood out for their Research & Development activity and their highly innovative products, Aquafil and Carvico's partnership highlights key synergies necessary to internationally support the development of the XLA elastomeric fiber.

Aquafil's strong knowhow within the polyamide fibers segment, together with Carvico's experience within the elastic fabrics field, are indeed the ideal mix of skills to best sustain XLAnce Fibre Italia's growth and positioning on the market, through a strategy consistent with the fiber and textile/clothing sector evolution.

"Innovation is part of Carvico's identity" said Laura Colnaghi Calissoni, Chairman of Carvico "and true innovation in the stretch fabric sector commands a coordinated efforts along the supply chain, as new fibers are a compulsory component of any genuinely new fabric solution."

"As a leading stretch fabric company our interest into the possibility to resume XLA production was natural, since XLA has been one of the very few significant new fibers in our business in recent years, and our partnership with Aquafil, whose fiber technology knowledge is a key requirement, made this project possible."

"We believe - Colnaghi Calissoni ended - that our customers will appreciate our decision, and we will work to ensure that the new company, which will have the full freedom to operate independently on the market, can offer innovative solutions in many applications where the use of fiber XLA can add value."

Giulio Bonazzi, Aquafil Group Chairman said: "We were impressed by the quality and the amount of R&D work that has been done on this fiber, and we are grateful to Dow for the professionalism and all the information that was made available."