TV TecStyle Visions offers a complete overview of industry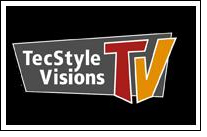 Visitors and exhibitors at TV TecStyle Visions 2012 are already looking forward expectantly to the forthcoming international trade meeting of professionals in textile printing, embroidery, flock coating, laser marking and rhinestone finishing. On 2 February 2012, the international trade show at Stuttgart Trade Fair will open its doors again for the seventh time. Besides the 200 exhibition stands, visitors can also look forward to events in a support programme which is more extensive than ever before, with innovative new solutions and practice-related presentations.

TV technical forum
The TV technical forum includes no less than 20 seminars offering visitors added value to enhance their trade fair visit. Experts from the fields of textile printing, embroidery, flock, marketing, safety in the workplace and quality control will offer practice-oriented professional seminars for textile decorators.

The seminar programme will once again be hosted by TVP, the official media partner of TV TecStyle Visions. Seminar leaders will include: Barbara Stümer (Tex Design), Michael Hildebrandt (Poli-Tape Klebefolien GmbH), Edvard Crnic (Maag Flockmaschinen GmbH), Holger Walter (Kissel + Wolf GmbH), Massimo Baezzato (ConStitch), Robert Deppner (Karl Gröner GmbH), Andreas Rust (Russell Europe), Frank Poppensieker (Neenah Transfers), Jürgen Schwarz (Kissel + Wolf GmbH), Ralf Appelbaum (Multi-Plot Europe) and Birgit Jussen (Quality Matters – sewing technology and quality consultancy).

Fashion shows
Three times daily, at 10.30 a.m., 1 p.m. and 3 p.m., promotional textile and workwear garment manufacturers and traders will present textile fashions for 2012 at the show stage in Hall 6. In each 30- to 40-minute show, trade fair visitors will gain a vivid impression of the new advertising and promotion collections. Included here will be the clothing manufacturers and textile wholesalers C.G. Workwear, Switcher, Promodoro Fashion, L-Shop-Team and Gildan.

Presentation of the Golden Shirt Award
"Communicate the Community" was the theme of this year's Golden Shirt Award, which again met with great interest from textile decorators. TVP once more organised the award, which will be conferred during the TV TecStyle Visions trade fair. By the closing date at the end of September 2011, a total of 56 competition entries had been received.

Besides the theme already mentioned, a further entry condition was that at least two textile finishing techniques must be combined. The entries were judged at the advisory board meeting on 3 November 2011 by the TV TecStyle Visions trade fair advisory committee.

The committee, made up of both exhibitors and market experts, comprised: Michaela Kensbock (Amann & Sons), Adalbert Moller (Borchert + Moller), Tobias Lembach (Mountek), Joachim Rees (Multiplot Europe), Mario Panter (Print Equipment), Paul Geiger (Heinz Walz), Sebastian Reitmeister (Falk & Ross Group), Stephan Gunold (Gunold), Jörg Bittorf (L-Shop-Team), Julia Liesenhoff (Madeira Garnfabrik), Peter Niedermann (Oerlikon Saurer Arbon AG - Melco) and Elke Bobek (Promodoro Fashion).