Fresh ideas for interior design with textiles @ Heimtextil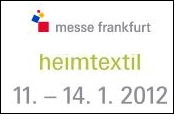 'Ideas crossing', the motto of Heimtextil 2012, is an invitation to discover a wealth of creative product ideas and new approaches when start-up companies and young product, furniture and textile designers present refreshing inspirations and innovative textile developments at the international trade fair for home and contract textiles.

Heimtextil from 11 to 14 January 2012 spotlights the coming generation with a new joint-presentation by start-up companies and a wide-ranging talent-promotion programme.

Trade visitors to the coming Heimtextil can expect to find a host of new ideas for the bathroom, bedroom and table at New More. Top start-ups will present their collections and new products in the premium segment in Hall 11. "With New More, we have created a platform that gives start-up companies the opportunity to make their first presentations to the international audience of trade visitors at Heimtextil", explains Meike Kern, Heimtextil Director.

"We are looking forward very much to the new products by some highly interesting newcomers who represent a creative plus for the premium segment." Among the start-ups will be Peppa Grace and Robespierre Europe from Germany and a number of new companies from Tunisia.

Creative designs for multi-functional upholstered furniture
For the fifth time running, Heimtextil is organising the Young Contract Creations Award: Upholstery in cooperation with fibre manufacturers Trevira CS and PolsterFashion magazine for the upholstery trade.

Under the motto 'Relax!', young product, furniture and textile designers were called upon to create multi-functional pieces of upholstered furniture for the contract sector. The new models should be ideal for sitting or lying down, and be equipped with supplementary functions.

Altogether, over 50 entries have been received from 13 international universities, and the jury of five experts – Prof. Jan Armgard (furniture designer), Stefan Bornemann (Sales Director, ERPO Möbelwerk), Silke Forner (Editor-in-Chief, PolsterFashion), Anja Greger (designer, Trevira) and Bernd Hollin (architect) – will select the most interesting models.

The 2012 competition is supported by ERPO Möbelwerk. During the fair, the 25 best designs will be on show in a special exhibition in Hall 4.2. The promotional awards, which are worth a total of € 5,000, will be presented at a ceremony in Hall 4.2 at 16.30 hrs on 11 January 2012.

International design universities to make presentations
Another source of inspiration for visitors from the fields of manufacturing, interior furnishing, architecture and textile design is the CAMPUS special area – an exhibition by 17 leading European design universities in Hall 4.2, which is being organised in cooperation with the Berlin-based 'rooms for free' association.

Students from 12 countries will present their ideas for textiles, which they are preparing especially for Heimtextil 2012, to the international audience of trade visitors there. In addition to German students, the participants come from universities in Bulgaria, Estonia, Finland, Great Britain, Poland, Slovakia, Switzerland, the Czech Republic, Turkey and Hungary.