US cotton production forecast reduced in December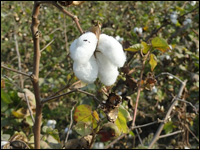 The USDA December forecast of the 2011 U.S. cotton crop was reduced about 3 percent (473,000 bales) this month to 15.8 million bales, as production was adjusted in a number of States. The latest estimate indicates a 12.5-percent reduction from 2010 as extreme drought conditions—mainly in the Southwest—reduced the crop potential considerably this season. The 2011 national yield was lowered to 771 pounds per harvested acre, 41 pounds below a year ago and the lowest yield per acre since the 2003 crop.

Harvested area was unchanged this month at approximately 9.85 million acres, the third smallest of the last 20 years. Upland production is estimated at 15.1 million bales, 2.5 million below last season, while the extra-long staple (ELS) crop remains estimated at 737,000 bales.

Upland production is expected to increase in three of the four Cotton Belt regions as area expanded in 2011. The Southwest is the exception as the 2011 drought pushed abandonment to a record (58 percent) and decreased production to approximately 3.9 million bales, the lowest since the 1998 season. In the Southwest, planted area—at 8 million acres—reached its highest in 30 years, while harvested area—at about 3.4 million acres—fell to its lowest in 125 years.

The Southeast and Delta are estimated to harvest 5.1 million and 4.7 million bales, respectively, this season. For the Southeast, higher area and a below-average yield combined to produce the largest regional crop in 6 seasons.

In the Delta, higher area, coupled with an above-average yield, provided the region's largest harvest since the 2007 season. In the West region, upland production is estimated to rise for the second consecutive season after 5 years' of decline. At 1.4 million bales, upland production is estimated to be the largest since the 2003 crop.

U.S. cotton demand for the 2011/12 season was reduced slightly this month to 14.9 million bales, 18 percent below last season. U.S. mill use—based on data collected by the Farm Service Agency—was lowered this month and is now forecast at 3.6 million bales in 2011/12, nearly 8 percent below 2010/11.

U.S. cotton exports were unchanged in December and are forecast at 11.3 million bales, more than 3 million below last season. With smaller U.S. exportable supplies available this season and a record foreign crop projected, U.S. cotton exports are forecast to fall to their lowest since the 2001 season.

U.S. Stocks Revised; Season Average Price Range Narrowed
With a smaller cotton crop this season, U.S. supplies are at their lowest since 1998/99; however, reduced demand for U.S. cotton is expected to push ending stocks higher in 2011/12. While December's forecast of 3.5 million bales is below last month's expectation, stocks at the end of 2011/12 are projected to increase nearly 1 million bales from a year ago.

Both the stock level and the stocks-to-use ratio—estimated at 23.5 percent—would be the highest in 3 years. Based on the latest supply and demand outlook for 2011/12, the average upland cotton farm price is now forecast to range between 85 and 95 cents per pound, compared with the final 2010/11 price of 81.5 cents.