Signature decorative fabrics & trims on display at Calico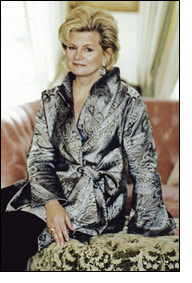 Fabrics by Designer Charlotte Moss Debut at Calico Corners – Calico Home stores. Pretty patterns and updated classics in prints and jacquards arrive from noted designer, author and style-setter Charlotte Moss.

Interior designer Charlotte Moss has spent a lifetime creating elegant and inspired rooms. Now she has brought that signature style to her new collection of 92 decorative fabrics and 75 color-coordinated trims, all available at retail at the Calico Corners – Calico Home stores across the country and online.

With this collection, Moss brings to life her favorite designs in painterly patterns, pretty colors and a wonderful marriage of textures. "I approached this collection almost as if it were a wardrobe for rooms," explains Moss. "I feel fabrics should be instantly appealing, elegant and comfortable, and adaptable to different rooms and uses."

Making the collection well rounded—with lots of coordinates in wovens and prints and trimmings—was an important goal. "I want to inspire the customer to create her own vision—her look—with enough choices to do it easily and stylishly," adds Moss.

Many fabrics in the Charlotte Moss collection are inspired by antique textile documents and vintage clothing picked up on her travels. Other patterns are drawn from nature or adapted from motifs that she uses again and again in her residential design work.

Charlotte Moss' interest in design began when she learned to sew in eighth-grade home economics classes. With saved babysitting money, she stitched up clothing for herself, plus curtains, dust ruffles and slipcovers to redecorate her room.

Young Charlotte's sister was her first client in these ventures. That passion for decorating grew. "Years later, newly married, I sewed and I shopped at Calico Corners," recalls Moss. Eventually, she left a career marketing tax shelters in New York City when her firm was bought out, cashed a bonus check and started Charlotte Moss Interior Design.

She has been creating a name for herself ever since, with high profile design projects, magazine features, distinctive designer showhouse rooms and seven books published. Charlotte Moss Decorates is the most recent title, also available at Calico.

"We think the fabrics in the Charlotte Moss collection will resonate perfectly with the Calico customer," notes Lori Cropp, merchandise manager for the 90+ Calico Corners – Calico Home stores. "For the customer who loves traditional design, there are classic patterns, paisleys and vining florals rendered in fresh, updated colors.

There is even a design with a printed passementerie border that appears to be a braided trim." Border prints look novel again, adds Cropp, noting that they can be used for custom window treatments with the border accenting the leading edge of a drapery or the hem of a valance or a bedskirt. The border can also be cut off and appliquéd around the hem of a chair skirt, coverlet ortableskirt.