MAG Solvics unveils four new yarn testing machines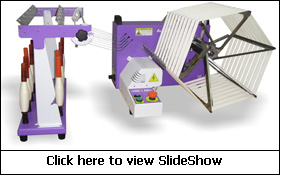 MAG Solvics Pvt Ltd - an ISO 9001:2008 certified company, a market leader and the only manufacturer in India to provide textile testing equipments for testing fibre, yarn & fabric all under one roof, has recently introduced four new yarn testing equipments in the Indian market.

MAG Solvics follows major global standards like ISO, AATCC, ASTM, BS, IS, SDC, IWS, IWTO and ITF, which are comparable with any international norms.

Among these four new testing equipments, one is the improvised version of the MAG AutoWrap XT - Automatic Wrap Reel, for accurate measurement of Yarn Count and Lea Strength.

MAG introduced the improved version of Wrap Reel with the basic objective to generate precise skein length and ensure maintenance-free operation. It produces precisely 1.5 yards or 1 metre girth length to evaluate various count systems. This is achieved by the micro-controller based automation with the possibility for the selection of quarter lea, half lea and full lea.

This equipment is constructed with the latest engineering components for easy and maintenance free operation. Added features are the ergonomic design and patented stainless steel reel construction for high accuracy testing. It incorporates ceramic trap guides to avoid yarn friction in spreader loop reeling arrangement and includes collapsible swift for easy lea removal. A specially designed cop stand with adjustable tensioner fulfills the entire need of the lea preparation.

The second testing machine unveiled is the MAG EleStretch XT - Electronic Lea Strength Tester. The ergonomically designed table top model is an incentive for spinning laboratories to measure the Lea Strength with the latest engineering technology ensuring accurate measurement. The equipment works under the principle of Constant Rate of Extension (CRE).

It is constructed with micro-controlled solid state control circuitry and user-friendly navigation menu, enabling faster testing. An alphanumeric LCD display screen is used to view the test results. The equipment incorporates proven clutch driven tongue follower traverse mechanism for easy sample handling and maintenance-free inline drive system for quiet & trouble-free operation.

It facilitates computer interface for data manipulation and presentation. Easy selection options are provided for force unit in lbf, Kgf and Nf and elongation units in mm, inch and percentage. This equipment comprises numerous RoHS compliant and safety components and complies with CE norms.

The third is the MAG AutoStretch XT - Automatic Tensile Strength Tester, an ergonomically designed, rugged table top model with double column mechanism has been launched incorporating exceptional features. The main objective of this equipment is to determine the peak breaking force and elongation of yarn in skein form (Lea), having 1.5 yards girth length and estimates the RKM value of yarn by single-strand method.