'We plan to focus on R&D' – Shantanu, LNJ Bhilwara Group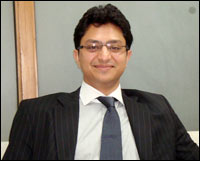 Remove the pin-striped suit and he could resemble someone just out of school. His boyish looks however, belie the sharp mind behind those soft twinkling eyes. His smile is natural and his demeanor quiet, fitting someone from a very good cultural background.

I am in Bhilwara Towers, to meet the third generation scion of the Delhi-based diversified LNJ Bhilwara Group – Shantanu Agarwal. LNJ Bhilwara Group has major interests in textiles, garments, graphite electrodes, power generation, IT enabled services, etc and generated group revenues of over Rs 48 billion (US $1 billion) in the previous fiscal. It also completed 50 years of its glorious existence in 2011.

Shantanu who still retains his boyish charm, recently crossed 26. He is soft-spoken and speaks articulately and eloquently with an Americanized accent, the result of having stayed in the US for almost seven years and has breezed through school and college with excellent scores and flying colours.

He studied at Don Bosco School till the 10th grade and shifted to DPS - R K Puram, from where he completed his 12th board exams. He went on to graduate in Electrical and Computer Engineering from Carnegie Mellon University in Pittsburgh – USA and thereafter did his post-graduation in Business Management from the Wharton School of the University of Pennsylvania, majoring in Strategic Management.

Shantanu calls himself a bookworm while in school and college, which is apparent from the grades he secured in the 12th board exams and in college. He secured 93.4 percent in his 12th board exams, 3.9 GPA out of a possible 4.0 at Carnegie Mellon and 3.6 out of 4.0 again at Wharton.

When in school, Shantanu was a state champion in table tennis for five consecutive years. However he now enjoys playing a game of squash or golf in which he has a handicap of 10. He calls this handicap adequate, since he is not able to practice regularly and plays for fun.

Shantanu loves reading books particularly those related to physics. His favourite book is "Elegant Universe" authored by a Columbia University Professor - Brian Greene. He is currently reading another book from the same professor called "The Hidden Reality".

Between his graduation and post graduation, he worked in the trading division of UBS, the Switzerland based Bank, in New York and London for 18 months, after which, he joined the family managed automotive fabric business for 15 months, before flying off the US to earn his MBA degree and came back last year to rejoin the business.

Shantanu is also a proficient tabla and guitar player and used to attend regular music classes when in school and has also cleared grade-3 in classical guitar from Trinity College of Music – London. He is not so active on Twitter and Linkedin and also does not consider himself to be either a technology or gadget geek.

One of the biggest values he admires in the family is their persistence and hopefully would like to imbibe. The second most important value is taking rational decisions opposed to emotional decisions. If they were in a business, in which the family does not see a great future 5-7 years down the line, Shantanu would not think twice of hiving off the business.