Brand leaders celebrate emerging tech event in Panipat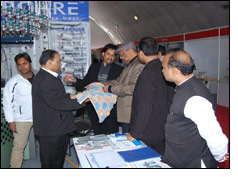 Panipat hosted igmatex exhibition from 21st to 22nd January 2012 at Huda Ground, near Mittal Mega Mall, Sector-25, Panipat ( Haryuana ). This 2 days extravaganza show cased the latest technology of Home textile, blanket, quilt and machines to power to all related units in Panipat.

Igmatex Exhibition's Technology Show is the largest technology show in the B grade cities. Igmatex Exhibition drew several industry decision-makers over the 02 days show.

In the last eight editions of Igmatex exhibition the scale of Igmatex is a leap-growth pattern, and it brought new challenges to the industry every time. It is the same this year, while the challenge is bigger than before. The development trend is not clear, and where the enterprises will go? In this special period, what kind of exhibition is the exhibition they need? Igmatex prepared a market analyses and try to make clear the development of textile and garment industries in smaller towns are much stronger than the metro cities.

Igmatex's biggest technology exhibition featured home textile machineries and allied products. Igmatex exhibitions packed with business networking, product showcasing, and brand launch platforms for regional participants.

Even the highest expectations of first time exhibitors and long-term stalwarts of the show are surprised. Feedback has reinforced Igmatex Exhibitions as one of the most influential technology exhibition in india. Over 90% of exhibitors exceed their ROI expectations through: Deals conducted, new partnerships created and future leads identified during the technology day.

"Igmatex consistently delivers the highest standards and provides us with an immense return on investment year-on-year." Rajesh Kumar Director – Narinder International, Ludhiana

" It's the best show to get ideas and find answers to your manufacturing problems. See new solution demonstrations and choose the best for your needs. Compare technologies from around the world in one place and get the edge you need to stay competitive in your field in the future." Mr. Abhinav Arya, Director, Fabcare Garment Finishing Machines, New Delhi.

"The quality of visitors was superb and to meet this level of decision-makers takes a lot of years and a lot of time but this could be possible in 2 days" Mr. Brijesh Garg, Managing Director, Shrutex Overseas, Panipat

"it was a guaranteed and hassle free experience in Panipat exhibition the business and the contacts made during 2 days extravaganza was beyond our expectations" Mr. Devender, Unidav, Ludhiana.

"We have got thundering response in 1st time happened Igmatex Exhibition in Panipat ( Haryana ) at chilled and thrilled climate.Visitors was great and business was superb" Mr.Sudhakar varma , Usha International Ltd. New Delhi.

Igmatex exhibition invited all home textile manufacturers, and exporters. Igmatex exhibition was powered by high speed machines, industrial sewing machines, Finishing equipments, Testing machines, Knitting machines, Digital printers, CAD/CAM, Lazer cutting machines.Power looms, yarns, threads, chemicals,colors and accessories.