'Adapt to change' – Vikas advices young textile leaders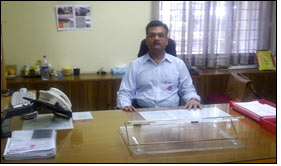 Vikas is a computer geek. Has a computer shack at home, where he and his ten-year old son, learn about and assemble new hardware applications in computers and robots as both – passion and pastime.

His textile company employs women workers, particularly widowed women, not for the sake of corporate social responsibility (CSR) but with a genuine desire to empower disadvantaged women and ensure that they are socially empowered.

For as many as 12 years, Vikas stayed in the mill premises, which is located in a very economically backward region of Rajasthan – Dungarpur. His wife too stayed with him for a majority of those years, giving up the comfort and quality lifestyle of Mumbai, where the Ladia family is based.

Vikas Ladia aged 38, is the second generation of the Ladia family and son of Mr VK Ladia, which operates and manages Shree Rajasthan Syntex Ltd (SRSL). He is designated as the Joint Managing Director of SRSL, which clocked a turnover of Rs 3.5 billion in the previous fiscal year.

Vikas did his schooling at the prestigious Mayo College in Ajmer. He has graduated with a degree in Computer Science Engineering from Manipal University, which explains his love and passion for computers. He has also undergone several technical training programs overseas.

He is married to Monika, a gold medalist in Chemical Engineering, whom he met while in college. They have a son - Aman who is 10 years old. Monika is fully and functionally involved at SRSL and manages the export division of SRSL. Even when they were staying in Dungapur, she looked after quality control and coordinated export sales of the company.

Vikas loves to read, but enjoys reading a lot of newspapers and magazines daily, to keep himself updated with the latest. He also loves to experiment with hardware of computers. Right now, he and his son are in midst of assembling a programmable robot. He is a cycling enthusiast and has gone on cycling trips in Europe with his son Aman.

Vikas is a facebook and twitter enthusiast. On twitter, he is a follower of Amitabh Bachchan, Rajdeep Sardesai of CNN-IBN and Melinda Gates. He spares 10 minutes of his time before going to bed to indulge in this passion. He aspires to have the latest gadgets whether a tablet PC, camera or a mobile, but only after a thorough research of the product.

Vikas considers his mother as the inspiration behind him and credits her for whatever he has achieved in life. She was the one who pushed him to work for 16 hours a day. Vikas was brought up on values which include being fair to self and others and being considerate and generous to those less gifted.

The biggest quality that Vikas admires in his father – Mr VK Ladia is his forthrightness in his dealings. Vikas also holds in high esteem the senior Ladia for his convincing ability to switch off from business talk to family discussions or vice-e-versa, instantly. Vikas aspires to imbibe both of these qualities.