Innovative new works previewed at The Textile Museum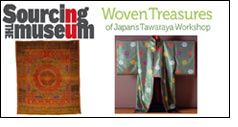 Two new exhibitions open at The Textile Museum on March 23: "Sourcing the Museum" (on view through August 19, 2012) and "Woven Treasures of Japan's Tawaraya Workshop" (on view through August 12, 2012). "Sourcing the Museum" showcases contemporary textile art made in response to the museum's expansive collection and "Woven Treasures" gives insight into Japan's court culture through exploring the history of one family-run silk workshop.

"Woven Treasures of Japan's Tawaraya Workshop" and several supporting programs are part of the National Cherry Blossom Festival. The Textile Museum is also a participating site for the D.C. Commission on the Arts & Humanities "5x5" public art initiative, debuting with the launch of the National Cherry Blossom Festival on March 20.

Natural Wishing by Chrysanne Stathacos will be installed in The Textile Museum's garden. This interactive artwork enables participants to connect with "wishing actions" from around the world through tying a wish to a tree.

Japan's Tawaraya Workshop has produced exquisite silks for more than 500 years for uses which include Imperial garments and Noh theater costumes. A selection of these precious textiles and kimono will be featured in "Woven Treasures." This exhibition was organized with the help of Hyoji Kitagawa, the 18th-generation head of the workshop, who was recently designated a Living National Treasure by the Japanese government.

"Woven Treasures" includes 37 pieces on loan from the Tawaraya workshop, including lengths of fabric and completed costumes. This is first time these silks will be exhibited in the United States and English-language research and study of these textiles has been scant.

Four uchigi (colorful robes worn underneath formal outer garments) will be displayed, in addition to a kosode robe used in Noh Theater. The untailored textiles include silks commissioned for the Imperial Household and the Ise Grand Shrine. The historical basis and aesthetics of each design offer greater understanding Japanese court tradition and culture.

The Textile Museum is home to an extraordinary collection of historic textiles. For the exhibition "Sourcing the Museum" these pieces provided inspiration for eleven fiber artists to create new works, which will be on view at The Textile Museum from March 23 through August 19, 2012.

Invited to participate by world-renowned weaver and scholar Jack Lenor Larsen, the chosen artists are diverse in background, preferred technique, and aesthetic, but all at the height of their careers.

Larsen encouraged the participants to move beyond their preferred materials and techniques, and the result is an incredible diversity of new textile arts—from a dense photographic tapestry, to a diaphanous silk hanging, to a political straitjacket. These and all of the new works will be displayed alongside the historic pieces that inspired them, underscoring the connection between past and the present.