Indorama Ventures to raise capacity to 10mn tons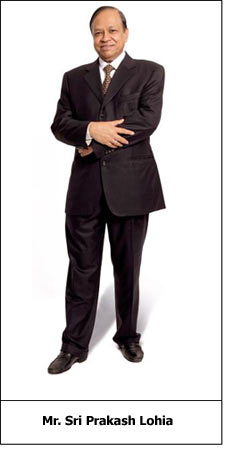 Indorama Ventures, one of the largest vertically integrated polyester chain producers in the world, will be increasing its capacity to reach 8.3 million tons by 2013 and 10 million tons by 2014.

Headquartered in Bangkok, Thailand, Indorama Ventures has presence in 15 countries in four major regions of the world – Asia Pacific, Europe, North America, and Africa.

Speaking to fibre2fashion, Mr. Sri Prakash Lohia, Chairman of Indorama Ventures, said, "In 2010, Indorama Ventures created a business plan to lead us up to 2014. Under the plan, the company's capacity would grow from 3.2 million tons per annum to 10 million tons per annum by 2014. We are on the way to achieving our goal and expect to have approximately 8.3 million tons of capacity per annum by 2013 under our ongoing expansion plans."

Detailing about the various projects being undertaken by the company to achieve capacity expansion target, he says, "We are setting up a new greenfield PET recycling plant in Thailand of 36,000 tons capacity as we are undertaking a sustainability plan that emphasizes recycling. This project follows the completion of a new recycling plant in Alabama, USA, in 2011 and the acquisition of Wellman International, Europe's largest PET recycler in 2011."

"Next, we shall add a new brownfield 212,000 ton PET line at our Rotterdam plant to substitute imports into Europe. We shall also undertake a 220,000 ton PET brownfield expansion at our Poland site to substitute imports and expand the market," he reveals.

"We have a plan to expand the PTA brownfield capacity by 220,000 tons at our Rotterdam site, to serve the expanded PET line and those at our plants in the UK and Lithuania. Plans are also afoot to establish a greenfield PET plant in Nigeria of 84,000 ton capacity to meet the needs of our major customers in this new, fast-growing market," he informs.

Continuing further, he says, "At our Indonesia site, we will be undertaking a 309,000 ton capacity expansion to meet the needs of our customers in a fast-growing market. We plan to add a 24,000 ton specialty fibre capacity at one of our Thai fibre sites to meet the needs of our major customers for a broader portfolio of product mix."

"Indorama would also be setting up an 116,000 ton additional line to its PET facility in China to meet growing demand and make the manufacturing process there more balanced and efficient," he adds.

Briefing about acquisition plans of the company, Mr. Lohia says, "We plan to acquire Ethylene Oxide/MEG assets of Old World chemicals in the USA. This will make us the world's first fully integrated polyester player, create more profit for the shareholders and offer us an opportunity to take advantage of lower gas costs in the USA."

"The acquisition of a new PET plant called Polypet in Indonesia is also on cards. This 115,000 ton plant will be integrated into a PTA plant we acquired in 2011 called Polyprima. This will create high efficiency and reduce the logistics cost as its physical proximity would allow piped PTA," he adds.