Trident to set up integrated textile manufacturing unit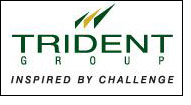 Trident Group, one of the country's leading conglomerates with revenues of Rs 45 billion and clientele across over 75 countries has charted out aggressive expansion plans to further consolidate its global leadership. The Group has already emerged as one of the top terry towel manufacturers and agro based paper manufacturer in the world and is embarking on expansion drive to target Rs 90 billion revenues.

Trident is pioneer in associating with global retail brands across the globe, including Wal-Mart, Target, JC Penney, Macy's, Kohl's, Sears, Sam's Club, Burlington etc to name a few. The patrons include 9 of the top 10 home textiles retailers in the US; leading retailers in Europe and UK and 5 out of 7 major retailers in Australia and New Zealand. Trident, also a leading supplier of copier paper & chemicals, after establishing "Trident Spectra" in domestic and International market, recently launched "Trident Eco Green" and "Trident Natural" to expand its market share in paper industry.

Trident endeavors to focus on new technologies and selected one of the best global technology partners in textile and paper industry. Currently the group has a production capacity of 14.5 million pieces of towel/month, 90,000 pieces of bathrobe/month, 15,000 tonnes of Paper/month, 7,500 tonnes of cotton & blended yarns/month and 60 MW captive power generation.

The Group has committed a total investment of about Rs. 3,600 crores in setting up an integrated textile complex and expanding its yarn facilities at Budni, Madhya Pradesh. The new facilities will be engaged in the manufacturing of terry towels, sheeting, value added yarns and captive power plant. This expansion which is expected to be completed by third quarter of 2013 will be one of the largest Integrated Home Textile manufacturing facilities in the world.

Talking on the expansion, Mr. Rajinder Gupta, Chairman, Trident Group, said, "Trident has exhibited building world class capacities over the years and has seen tremendous success in domestic as well as international markets. This plant will be strategic to our Group's growth over the next decade in consolidating our leadership position. It would also help us meet the growing demands for our products, while expanding our markets globally". "We are looking at inclusive growth and feel this is the right time to grow our market share", he further added.

Trident Group will also inaugurate its Yarn projects at Budni comprising of 1.25 lacs spindles. The Group has targeted of extensively increasing the production capacity to 5 lacs spindles and 5,624 rotors in its major yarn expansion project. The expansion project of the yarn spinning facilities is being implemented with an investment of Rs 1200 crores. Subsequent to the commissioning of this yarn spinning unit, the total yarn spinning capacity has increased to 3.66 lacs spindles and 3,584 rotors.

Post expansion, Trident would be able to increase its production capacity to 30 million pieces of towel/month, 3.6 million meters of sheeting/month, 12,000 tonnes of cotton & blended yarns/month and 120 MW of captive power generation.