Interstoff Asia Essential - a successful event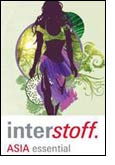 Exhibitors, buyers and designers alike unanimously agree – after 25 years Interstoff Asia Essential continues to be the region's pioneering fashion, functional and eco textiles trade event leading Hong Kong's industry in terms of design and innovation. Ending on 16 March 2012, the spring edition welcomed 7,625 visitors worldwide, an 8% rise from the previous year.

To commemorate the show's silver anniversary, Hong Kong designers Dorian Ho, Chen Dao and fashion brands Modele de Prudence and WHOSTHAT presented their Spring\Summer 2012 collections to nearly 1,000 guests and press on days one and two of the fair. This season, 14 exhibitors supplied their fabrics including Prosperity Lace from Taiwan who worked with both Dorian Ho and Modele de Prudence.

During the welcome ceremony before the fashion shows, Mr Zhang Yan Kai, Vice President of the China Textile Industry Federation optimistically said: "This fair has always been at the leading edge of the textile industry, especially nurturing design talent and enhancing exchange and industry development between Hong Kong and Mainland China."

In addition to the fashion events, a key attraction was the forum on Trends and Developments in China's Apparel and Textile Industry with nearly 200 attending delegates.

One of the guest speakers at the forum, Mr Ray Lau, Director and Deputy General Manager for Jeanswest International HK Ltd shared his views on how to cope with the current industry developments between the two neighboring regions. "25 years in the industry is indeed a remarkable achievement and I am honoured to have been invited to discuss practical information as well as offer a fresh perspective."

Equally as important were the new partnerships with the Hong Kong Institute of Textile and Apparel (HKRITA), China National Textile & Apparel Council (CNTAC), Taiwan Textile Federation (TTF) and the Hong Kong Polytechnic University (PolyU), who jointly organised the Technology Zone, a display area highlighting new garment applications and innovative spinning, finishing and foam dyeing technology products.

"We are proud to represent Hong Kong and we treasure this opportunity to showcase our innovative products – this collaboration is a value-added service for textile industry, who have given us genuine feedback and we hope to work with some of the buyers we met on-site," commented Mr Barry Tai, Business Development Manager of The Hong Kong Research Institute of Textiles and Apparel.

"It's certainly a great achievement for us to collaborate with a number of industry heavyweights in China and Hong Kong, helping us forge towards further building Interstoff Asia Essential's positioning parallel to the region's industry needs," stated Mr Detlaf Braun, Member of the Executive Board for Messe Frankfurt GmbH.

A positive trend recorded was the increase of participating trading companies and buying offices and a growing number of buyers fromChina. Ningbo Huayi Garments, K-Boxing, Septwolves and Shenzhen Eeka Fashion were among the domestic Chinese brands sourcing at the fair.