Biosuccinium for sustainable elastane clothing production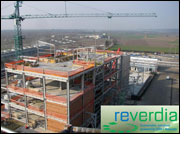 Reverdia, the joint venture between Royal DSM and Roquette Frères, has been formally approved by the relevant regulatory authorities. Reverdia aims to build on its emerging leadership position for bio-based succinic acid through its proprietary production technology and by ensuring reliable supply to meet the evolving market demands. Reverdia combines DSM's expertise in Materials Sciences, and biotechnology together with Roquette's know-how in plant-based raw material processing.

Bio-based succinic acid is derived from non-fossil feedstock and produced with sustainable production technologies that minimize carbon footprint. It is a building block that can be used in the manufacture of polymers, resins and many other products. Key applications include footwear, packaging and paints.

Reverdia will be the first in the world to have a large scale facility for the commercial production of bio-based succinic acid, which will be marketed under its Biosuccinium brand. It will benefit from the best and most sustainable fermentation technology to produce bio-based succinic acid, which has been in development since 2008.

The new facility, scheduled to be operational by the end of Q3 2012 will have a capacity of about 10 kt, and is located on the Roquette site in Cassano Spinola, Italy. The proximity to the port of Genoa ensures efficient global logistics.

It will be fully backward-integrated with on-site production of the starch feedstock and will employ co-generation of steam and power as well as on-site waste water treatment. All combined this results in a best-in-class carbon footprint for Biosuccinium.

"Biosuccinium is a unique, high quality bio-based succinic acid produced with the most advanced and sustainable technology," said Will van den Tweel, Reverdia's General Manager. "Reverdia developed a unique proprietary yeast technology to convert sugars into succinic acid. The novel process is simple, stable, very energy efficient and generates less waste and impurities than the bacteria-based technologies which are currently being used in alternative routes for bio-based succinic acid."

A demonstration plant on the Roquette site in Lestrem, France has been operational since January 2010 to validate and optimize the technology as well as to provide pre-commercial samples for application development. "The demonstration plant provided an excellent opportunity to gain technical experience on the production process of Biosuccinium. Combined with the expertise we have with the scale-up of processes and installations, we expect a smooth start-up of our commercial plant in Cassano." says Jean-Pierre Vannier, Operations Director for Reverdia.

Biosuccinium will provide the impetus for an entire range of more renewable, and more sustainable products. At a larger commercial scale, Biosuccinium is envisioned to be able to compete with both petrochemical-based succinic acid and petrochemical-based adipic acid.