Revolutionary fabric cooling towel by Mission Athletecare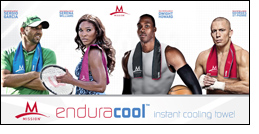 Just in time for the grueling summer months, MISSION Athletecare, the world's first and only Athlete-Engineered company unveiled the EnduraCool Instant Cooling Towel, a revolutionary fabric technology that delivers fast, long lasting cooling effects to enhance performance and combat overheating for all athletes, at all levels of play.

Overheating, heat illness and heat stroke are major concerns amongst today's athletes. Core body temperatures exceeding 104 degrees can cause serious, even critical damage to internal organs. It remains among the leading causes of preventable sports injury according to the National Sports Safety Organization.

Aside from safety concerns, when overheated, athletes cannot exert as much energy, impeding their peak performance. Current methods for cooling off, whether it's a bag of ice, pouring water over the head or using heavy chemically-treated rubber cooling pads, all fall short of an athlete's needs – both in form and function. MISSION's EnduraCool technology delivers fast, sustained cooling effects in a soft, breathable fabric that instantly cools without feeling heavy and wet.

"At MISSION, the lab team and elite athletes are always trying to solve unique problems that affect performance," said Dwight Howard. "Overheating affects us all, whether it's on the blacktop, center court, or on the field, and we wanted to find a portable, reusable, and comfortable cooling solution to address this need. EnduraCool is the one and only product to use!"

MISSION's EnduraCool fabric absorbs moisture and perspiration into the fabric core, and the unique "radiator-like" fiber construction circulates water molecules while regulating the rate of evaporation over time to create a prolonged cooling effect. This unique fabric is chemical-free, and does not wash out like some cooling technologies.

"We did extensive research among athletes, trainers and coaches in our development process," said Mark French, the head of Corporate Development and Innovation at MISSION. "Their feedback was clear and present, 'with the exception of concussions, overheating has quickly become one of the most pervasive sports dangers facing athletes, and providing an effective and functional solution to address this growing problem would be a major step forward in the world of sports'. EnduraCool uses a proprietary technology to give athletes an intelligent way to cool down – both during and after competition."

When dry, the fabric acts as a super absorbent cloth – but when it's wet and snapped in the air, the technology activates, cooling the fabric to nearly 59 degrees in just a few minutes. The cooling effects last for hours, and are easily reactivated by simply re-wetting the towel. The fabric also has an Ultraviolet Protection Factor (UPF) 45 to provide sun protection when covering the skin. "This is a game changing technology – I can't tell you how many times I've had to soak myself with water tokeep my body temperature down during workouts. EnduraCool allows me to keep cool with little effort," said Georges St-Pierre.