Wraphabillement to attend Copenhagen fashion summit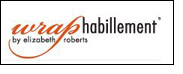 Wraphabillement Founder and Creative Director Elizabeth Roberts will attend the Fashion Summit 2012 in Copenhagen, which sets the global agenda on environmental, social and economically sustainable solutions. The Biennial Summit brings together over 800 key industry stakeholders to identify forward-looking solutions to the growing sustainability challenges facing the planet.

"Elizabeth's passion to create a chic and functional jacket while maintaining high standards with her choice of fabrics and their impact on the environment is outstanding. Not many start-ups can hit the ground running and show these signs of success this early on."

While there, Roberts will participate in sessions focused on Sustainable Consumption of Fashion and Fashion Futures. "I am passionate about every aspect of the products I design from the creative process to the fabrics I choose. My awareness of environmental and man-made elements have been heightened as a designer. It's exciting to be invited to share my vision on these matters of ecological compatibility and sustainability," says Roberts.

Since launching less than a year ago, Roberts has made design choices that empower the consumer, and in turn align with a number of cutting-edge Nordic global initiatives:

• Choosing Fabric provider Schoeller Textiles AG, which adheres to the bluesign® standard and produces textiles that contain the best available technology for ecology and sustainability.
• Using Schoeller's NanoSphere products that are produced with C6 fluorine atoms and are PFOS and PFOA free as per legal limit of detection and are applied via an aqueous formula to ensure that nanoparticles cannot come adrift during manufacturing or at any time during the life of the garment.
• Researching labor practices & standards of all material providers/vendors to ensure they are in accordance with industry standards.
• Manufacturing more than 45% of the current collection locally (in North America).
• Using fabrics for Wraphabillement garments that are washable in cold versus warm water, and do not require dry cleaning.

In addition, Roberts addresses the risks of electromagnetic frequencies (EMF) and microwaves from cell phones with a patent pending Smartshield pocket system in every jacket.

This system reduces the specific absorption rate (SAR) by 98% without compromising the ability to transmit and receive data and phone calls. While this risk is still subject to debate - much like the negative effects of secondhand smoke in the 1950s - it is an unquestionable indication of Roberts' concern about good health and sustainability, and her desire to educate and give choices to consumers. Fabrics used for the Smartshield pocket system were initially created in China to protect pregnant women in manufacturing plants from radiation.

"Wraphabillement really has had a global impact in a short time," says Shannon Walton, Communications/Marketing Director for Schoeller Textiles AG.