US committed to boost trade under AGOA & CAFTA-DR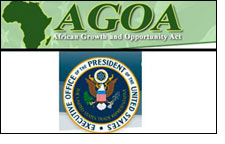 The United States is committed to boosting trade with African and Latin American nations through the African Growth and Opportunity Act (AGOA), our trade preference program for sub-Saharan Africa and our Central America – Dominican Republic – United States Free Trade Agreement (CAFTA-DR).

The urgent changes needed to AGOA and CAFTA-DR would build on two key U.S. trade initiatives that support trade and investment for more than forty-five of America's developing country partners in Africa and the Western Hemisphere – offering duty-free treatment to their products, promoting regional integration, high standards of accountability, transparency, good governance, and the trade and economic opportunities that contribute to sustainable growth and development.

Those countries – if they can grow their economies through trade and investment – also provide some of the best markets for American businesses to sell their goods and services.

Extension of AGOA's Third-Country Fabric Provision
Critical to AGOA's performance: AGOA is the cornerstone of America's trade and investment policy with sub-Saharan Africa. AGOA's performance and effectiveness are closely tied to its Third-Country Fabric (TCF) provision, which is set to expire in September 2012.

The TCF provision is crucial to the continued survival of Africa's textile and apparel industry – it has generated hundreds of thousands of jobs in sub-Saharan Africa, including in least developed countries, and has helped American retailers reduce their costs, diversify their supply chains, and provide greater low-cost apparel options for U.S. consumers.

Swift passage of legislation extending AGOA's TCF provision is necessary to ensure AGOA's continued success – and the stability, development, and economic growth of sub-Saharan African countries. Congress has extended the TCF provision twice with bipartisan support.

The key to the African apparel industry's development: Apparel trade under AGOA depends on the TCF provision. Global sourcing decisions for apparel are typically made up to nine months in advance, so failing to extend the TCF provision now means that apparel buyers are preparing to move production out of AGOA beneficiary countries, which will likely result in significant job losses and factory closures in Africa.

The potential collapse of AGOA apparel exports – if third country fabric is not extended – will also have a negative impact on the cotton and textiles inputs, and would significantly weaken the prospects for the development of a viable and more vertically integrated African cotton-to-apparel value chain.

Helps American Retailers, Businesses, and Consumers: Imports under AGOA, particularly apparel imports made possible through the TCF provision help American retailers lower costs on apparel products. The TCF provision also provides retailers with an incentive to diversify their supply chains away from other sources, and provides low-cost sourcing options for American apparel retailers and consumers.