Innovative brassiere developed for highly sensitive skin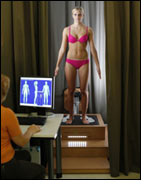 In cooperation with Amoena Medizin-Orthopädie-Technik GmbH, researchers from the Hohenstein Institute have taken on a highly sensitive yet very important issue. In the framework of the publicly funded research project (AiF no. KF2136714HG0) they developed a special brassiere for breast cancer patients.

The new brassiere can be worn during and directly after radiation therapy and takes into account the high sensitivity of the skin which often occurs during treatments as well as changes in breast volume.

Breast cancer is the most common type of cancer for women in Western countries. 58,000 women are diagnosed with breast cancer in Germany alone each year. Today 60-70 % of all affected patients can receive breast conserving surgery.

In these cases subsequent standard therapy includes several weeks of radiation therapy with the objective of using high-energy radiation to destroy any cancer cells remaining in the breast tissue. To achieve this, a radiation beam is directed trough the skin and into the affected tissue.

Despite the relatively gentle modern treatment patients often suffer from strong skin irritations. Depending on skin type there can also be side effects such as redness, lifting of superficial skin layers, flaking, swelling and weeping skin areas or even open wounds. These side effects have a massive influence on the success of the therapy and the patients' quality of life.

Any chafing and constriction of the radiated skin caused by clothing and in this case especially by a "normal" bra can therefore be perceived as extremely uncomfortable, often even months after the treatment itself. The materials used or the seams can additionally irritate the skin and cause pressure pain.

While patients with small breasts can go without a bra, women with larger busts depend on wearing a brassiere. The researchers' objective was therefore to develop a special bra for radiation therapy patients. Design, material and workmanship take into account the overly sensitive breast tissue as well as the inflamed skin and also provide best possible wearing comfort for the breast cancer patients.

The project team developed an ideal basic pattern on the basis of the anatomical data of breast cancer patients determined using a contactless 3D scanner. This was then used to derive optimum seam lines corresponding to the specific requirements of the patients.

The researches also examined the skin sensorial properties of the materials used, i.e. how they feel on the skin. For this, real wearing situations were recreated in the laboratory and it was determined which sensations are caused by certain textile materials on the skin.

For already inflamed skin it is important that any fabrics worn close to the damaged skin are particularly soft and breathable, i.e. they have to absorb sweat immediately and wick it away from the body quickly. The materials can be neither too smooth nor too rough in order to minimise mechanical irritation of the skin.