Rieter's new spinning plant has sustainable solution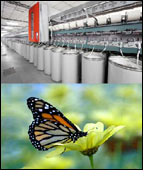 Rieter's latest spinning technology allows energy savings of up to 25 % in a cotton spinning plant. In a rotor spinning plant of Rieter, pure increases in productivity with new spinning technology are usually only sufficient to justify new investments after a long period of time. Other benefits of modern technology that do not completely pay off in the spinning mill itself are consequently only implemented with a long delay.

Spinning machines are very big energy consumers with an energy usage ranging from 0.5 to far above 1.5 kWh per kg of yarn. They thereby decisively influence the energy-related footprint of the textile product. In some regions, particularly in Asia, the spinning plants serve to develop industrialization and to increase creation of value from locally produced cotton. There, the infrastructure is heavily strained by such big users.

With the implementation of modern rotor spinning technology, the energy requirements for worldwide textile products can be sustainably decreased. Moreover, modern technology can provide an appreciable contribution towards easing the energy supply situation in the industrially developing regions.

The initial situation
A large rotor spinning plant in the USA which was equipped in the 1980s and continually expanded over a period of 10 years, produced with its meanwhile up to 18 years' old machine park approx. 88 000 tons of yarn annually from domestic cotton.

The spinning plant was operated with modernization measures so that the quality of the yarn remained competitive. Consistent servicing and maintenance permitted a high utilization despite an aging machine park. The investment trend for the textile industry in the USA, whose downstream processing moved to countries with low pay levels, was minimal. For this reason, new investment was postponed.

Due to the comparably low energy costs, the energy consumption of the plant was previously not in focus. Detailed statements on energy consumption of new plants are, in general, hardly available because of the very high dependency on the individual applications.

The solution – sustainable investment with new technology
The rotor spinning machine in use was consistently further developed with regard to productivity and lower energy consumption to the R 60 model. A new spinning unit contains the latest developments in spinning technology.

Its improved spinning stability allows equal yarn properties with a lower use of energy-intensive yarn twisting and therefore higher productivity. Longer machines make an economical machine price possible and a more cost-effective utilization of the areas in the spinning mills.

This was again only possible because the spinning positions used less energy due to the application of highly efficient central drives and energy-saving storage.

The sustainable strengths
The benefits of modern automatic rotor spinning machines are comprised of a combination of increasing the efficiency of the plant, a better utilization of the raw materials processed and a significant reduction of the energy consumption required for the production.