New HKS 3-M with improved performance features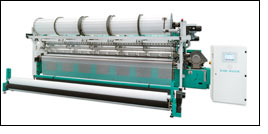 KARL MAYER is a textile machinery manufacturer who understands the market signs better than any other company in this sector, and reacts to the latest developments by constantly optimising its own products. The HKS 3-M is just one example of the company's constant powers of innovation.

This three-bar, high-speed tricot machine was presented to customers for the first time in 2000, and thousands of them have been sold since then. The technical features of the HKS 3-M were optimised to coincide with ITMA 2007. It was one of the first models to be mass-produced with CFP bars, which increased its speed compared to the previous generation by 25%. This successful machine was upgraded again at the beginning of this year.

All the experience gained over the last few years was brought to bear to redesign and revamp the machine construction, which is now in its third generation. The knitting motion, machine frame and the beam let-off frame were completely redesigned, which increased the speed by more than 15% compared to the previous version.

The HKS 3-M offers the same high performance both in terms of applications and working widths. It is available initially with a working width of 210" and gauges of E 28 and E 32 but more widths and gauges will follow.

As well as offering a higher maximum speed, the construction of the new HKS 3-M is much more compact. Access to the warp beam rollers on the right-hand side of the machine has been improved considerably, which complements the entire concept of the machine.

The HKS 3-M with its improved features was launched onto the market at the ITM in Istanbul, which was held from 21 to 24 April. This faster, high-performance tricot machine is to be of particular interest in Turkey to manufacturers of raised velour fabrics for the furniture industry and net curtains in a range of designs. In Istanbul, the HKS 3-M produced a lightweight marquisette fabric – a show that attracted attention.

The HKS 3-M is one of the most versatile and productive models in KARL MAYER's product range. The specific design and movement of its knitting elements enables the HKS 3-M to work a wide variety of stitch densities in a range of different fabrics, i.e. tulle and net fabrics can be produced just as efficiently and of the same high quality as dense fabrics. This tricot machine also works a wide range of different lappings and can process every type of yarn currently used in the warp knitting sector – a level of flexibility which made this all-round machine a real best-seller very quickly after it was introduced onto the market.

Nowadays, many manufacturers of upholstery fabrics and net curtains rely on these high-speed machines, as do producers of textiles for car headliner and seats. The HKS 3-M is also a firm favourite for producing stretch and non-stretch sportswear and intimate apparel fabrics.

This impressive, high-speed, all-round machine can also produce semi-technical fabrics, such as mosquito nets, wiping cloths, shoe fabrics and flags. In China, a tough HKS warp-knitted fabric has become particularly popular as a backing substrate in the synthetic leather industry.