NY cotton futures displays mixed performance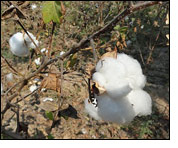 Plexus Cotton Limited reported that New York (NY) futures had a mixed performance this week, as July dropped another 239 points to close at 71.55 cents, while December was down just 32 points to close at 70.35 cents.

After losing around 24 percent of its value in just 22 sessions, averaging losses of 100 points per day, the cotton market seems to finally be regaining its footing.

We believe that the market's plunge was caused by a combination of the following factors:
a) Grower hedging, mostly via bearish options strategies;
b) a large short put position by the trade, which led to a rapidly increasing delta long position in a falling market and forced traders to play defense;
c) A deteriorating chart picture, which invited spec selling, especially when the market broke through long-term support near 83 cents and
d) Money managers once again moving to a "risk off" position in commodities.

The above factors combined to a 'perfect storm' of selling, while buyers were nowhere to be seen, which created a vacuum underneath the market. However, once the market approached the 70 cents level, the equilibrium got restored, as sellers were either less inclined to sell or had no more reason to, while bottom pickers started to look for bargains.

Although there has been some out of the money put buying this week, growers are generally not chasing prices below 70 cents at the moment. The trade, which got caught on the wrong foot when the market fell through its short put position, has already taken most of the hit since there aren't many puts left to defend against below 70 cents.

Short speculators, who got rewarded nicely by this selloff, are not likely to add to their shorts in an oversold market and are probably focusing on protecting their profits instead. Even the "risk off" trade may come to an end soon, as members of the Fed are already hinting at additional stimulus to combat the prevailing doomsday mood.

Cotton held up relatively well during this "Chicken Little" week, where the sky seemed to be falling on just about everything else. The fear factor is rising and fund managers are taking all kinds of bets off the table, parking their money in government bonds.

Today the 10-year US Treasury bond yield reached an all-time low of 1.5309% and German, French, Dutch, Canadian and Australian bond yields also declined to record lows. It is quite absurd to see yields drop to record lows at a time when government debt is reaching all-time highs.

Total US government debt amounts to USD 15.8 trillion today, which is more than three times as much as it was in the year 2000.

We believe that this fear surrounding the Euro crisis is a bit overdone and it reminds us of the hype ahead of Y2K. With traders all over the globe deleveraging ahead of a potentially cataclysmic event in Europe, it may eventually turn into a 'sell the rumor, buy the fact' situation.