Egypt cotton export volume rises in Dec-Feb 2011-12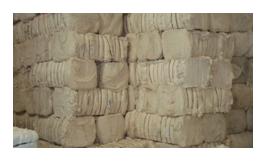 The quantity of cotton exports from Egypt during December-February months of 2011-12 have risen by nearly 12 percent year-on-year as per the data released by the Central Agency for Public Mobilization and Statistics (CAPMAS).
According to the CAPMAS report, Egypt exported 355,700 kantars (1 kantar = 45.02 kg) of cotton during the three month period, compared to 317,500 kantars of cotton exported during the corresponding period of earlier year.
The rise in volume of cotton exports is attributed to lower prices of Egyptian cotton.
In November last year, Egypt had imposed a temporary ban on import of raw cotton to stop the domestic prices from further declining.
Fibre2fashion News Desk - India