CITI organizes Indian Textile Summit on Sept 27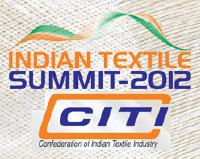 Confederation of Indian Textile Industry (CITI) is organizing the Indian Textile Summit on 27th September 2012 at Hotel Trident, Mumbai, India. The summit will be a congregation of textile and clothing entrepreneurs from India and abroad. The sessions of the summit will discuss factors and trends in the textiles and clothing sector of both India and global markets.

Though the industry has achieved many milestones thereafter, a comprehensive summit to draw the future direction is an impending necessity now. The global textile trade scenario is witnessing dramatic shift. Many countries had surpassed India in the textile trade and several issues remain unresolved in the Indian textile space. The purpose of holding this summit is to take the views of different stakeholders of the textile value chain and evolve collective growth strategy for the sector.

Government, during the past five years, had brought forth several policy measures, be it on trade related, raw material related or fiscal and financial domain. These vital policies had far reaching consequences on the prospects of the industry. The broad outline of the summit is divided into four business sessions.
Policy framework and its multi dimensional effect
Textile Innovators
Sourcing and Retailing: India's opportunities
Strengthening Value chain; optimizing trade benefits
Confederation of Indian Textile Industry (CITI) is the apex industry chamber of the textiles & clothing industry of India, representing the entire textile value chain from cotton to garments and home textiles as well as the textile machinery industry.
Confederation of Indian Textile Industry (CITI)