JAKAZOL WLT - The sustainable choice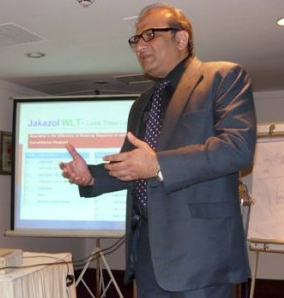 The 15th of September 2012 saw a successful launch of Jakazol WLT range at the Marriott Hotel, Karachi, Pakistan. This was held by JAY Chemical Industries Limited and Chemi Colour and was attended by almost forty senior managers from the local textile industry. Event started with the introduction of JAY Chemical Industries Limited by Mr. Sandeep Gupta (Regional Sales Manager JCIL) followed by a technical presentation by Mr. Abdul Rahim Khatri (Marketing Director – Chemi Colour).

JAY Chemical Industries Limited confirmed the wish to be a leading company in the innovation process and claimed that sustainability is a key factor in order to keep textile industry growing in the Asian region. Mr. Abdul Rahim Khatri said that JAKAZOL WLT is the consequence of the trend in the reactive dyes; he listed the main benefits of which we report details:
Water and Energy Conservation
Shorter time process
Right First Time
Lower amount of dyes in the waste water (High degree of fixation)
High Build up
Good Perspiration Fastness
Good Benzyl Peroxide Fastness
Mr. Imran ZAHOOR from M/s Amna Industries and Mr. Shahbaz BUTT from M/s Gul Ahmed Yarn dyeing commented some bulk experiences confirmed the value brought by JAKAZOL WLT.
The house was then opened for question – answer session which was lead by Mr. Sunil CHATURVEDI from JCIL.
Event ended with a vote of thanks by Mr. Abdul Rauf Khatri (Technical Director - Chemi Colour).
JAY Chemical Industries Limited