Tajikistan to invest in Chhattisgarh handicraft sector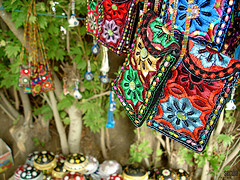 Handicraft items of the Central Indian state of Chhattisgarh have left a profound impression on people of Tajikistan, prompting the Tajikistan Government to decide on investing Rs. 400 million in the state's handicraft sector.
Inspired by the handicraft art of Chhattisgarh, Tajikistan Government has inked a Memorandum of Understanding (MoU) with Chhattisgarh Handicraft Board to invest Rs. 400 million in state's handicraft business and to promote its artisans.
This was announced during the one-day conference of handicraft entrepreneurs at Rajyotsav going on in New Raipur city of Chhattisgarh.
Owing to Tajikistan's initiative, 100 artisans belonging to varied disciplines in both the countries would shortly get an opportunity to share their experiences and learn about each other's skills and arts.
Fibre2fashion News Desk - India