China's cotton purchase for reserves grows to 5.28mn tons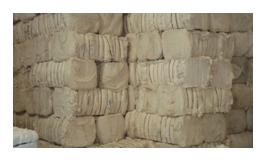 China continues to buy cotton for state reserves under its temporary procurement plan of 2012 and so far 5.285 million tons of cotton has been purchased.
While 2.364 million tons of cotton was bought from Xinjiang, 1.645 million tons were purchased from inland area, and 1.277 million tons were procured from other enterprises.
On January 6, 2013, about 24,800 tons of cotton was procured, which was 6,500 tons less than the quantity purchased on the previous trading day. About 7,000 tons of cotton was fetched from Xinjiang, while the remaining 17,800 tons were bought from inland area.
Fibre2fashion News Desk - China