Spanish textiles & garment exports rise in Jan-Nov'12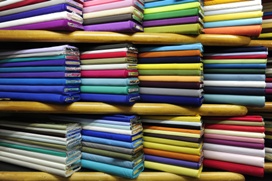 The exports of textiles and garments from Spain grew by 8.4 percent year-on-year to €9.857 million in the first eleven months of 2012, according to the figures released by the Ministry of Economy and Competitiveness.
Most of the increase in exports came from knitted apparel exports, which jumped to €6.820 million, registering a rise of 3.3 percent year-on-year.
From January to November 2012, Spanish textiles and garment imports fell to €13.100 million, showing a decline of 8.4 percent year-on-year. Of these, clothing imports were worth €10.027 million, down 8.6 percent year-on-year.
Fibre2fashion News Desk - India