China's domestic textile sales to swell in 2013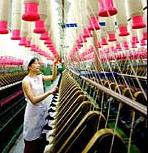 China's textile industry is expecting a rapid growth in the domestic sales in 2013 due to an increase in income of the urban and rural residents of the country.
Vice president of China Textile Industry Association Mr. Gao Yong said the domestic market will continue to maintain a rapid growth and the industrial production of large scale enterprises will accelerate in 2013.
The main reason for an increase in domestic demand of China's textiles is the increasing income of urban and rural residents of the country, he said.
According to the latest economic report released by the China Textile Industry Association, the total domestic sale of the large scale textile enterprises witnessed a year-on-year growth of 12.3 percent and rose to 5.781 trillion yuan in 2012.
Fibre2fashion News Desk - China