Sudanese Minister suggests steps to boost cotton exports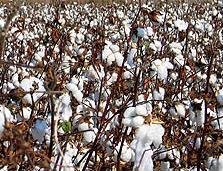 Mr. Osman Omer Alshareef, Sudanese Minister of Commerce has suggested harmonization of production and marketing polices to boost exports of cotton from the country.
During his meeting with the general manager of the Sudanese Cotton Company, the Minister suggested that a workshop be held to explore how cotton exports from Sudan be increased, Sudan Vision reported.
The Minister said increasing cotton exports is a strategic goal of the Government.
On his part, the general manager explained the steps taken by Sudanese Cotton Company to boost the profit of cotton farmers by helping them to reduce production costs and increasing their competitiveness in export markets, especially Egypt, the largest buyer of Sudanese cotton.
Fibre2fashion News Desk - India