China's textile & apparel exports shoot up in April'13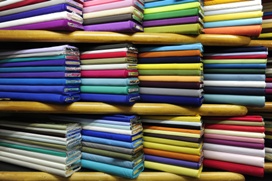 Textile and apparel exports from China increased by 12.72 percent year-on-year to US$ 22.282 billion in April 2013, according to the latest statistics released by the General Administration of Customs.
On a month-on-month basis, China's textile and garment export growth was a significant 33.26 percent.
Segment-wise, textile exports, including yarn, fabrics and related products, reached US$ 9.651 billion, showing an increase of 14.80 percent year-on-year.
Clothing exports, including apparel and accessories, fetched US$ 12.631 billion, registering an increase of 21.53 percent year-on-year.
Fibre2fashion News Desk - China