SIMA demands continuation of TUFS in 12th Five-Year-Plan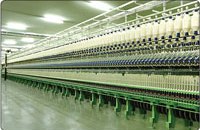 According to The Southern India Mill Owners' Association (SIMA), the Technology Upgradation Fund Scheme popularly known as TUFS needs to be continued and has to be implemented in India during this 12th five year plan period.
Coimbatore based SIMA insisted the need for continuation of the scheme in order for India to double its export and expand its textile business size. SIMA has pointed out that India's global textile share is 5%, which is far less than that of China, which is 34%.
Mr. Dinakaran, Chairman of SIMA has highlighted the emerging opportunities for the Indian textile industry due to recent unstable situations in Bangladesh and growing demand for cotton yarn and fabrics in China.
SIMA has pleaded the Union Cabinet Minister for Textiles to quickly announce the continued implementation of the scheme in the 12th five year plan period (2012-17). This will enable the industry to plan additional investments.
Seshadri Ramkumar