China's textile & apparel imports shoot up in July'13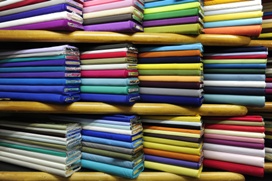 The imports of textile and apparel by China shot up by 14.3 percent year-on-year to US$ 2.576 billion in July 2013, according to the latest Customs data.
The imports of textile yarn, fabrics and related products were valued at US$ 2.044 billion, posting a rise of 13.49 percent year-on-year, during the month.
The imports of garment and clothing accessories during the month were worth US$ 532 million, showing a growth of 17.5 percent year-on-year.
From January to July 2013, China's total textile and apparel imports amounted to US$ 15.178 billion, representing an increase of US$ 1.414 billion or 10.27 percent compared to the corresponding period of last year.
Fibre2fashion News Desk - India