China's cotton imports decline in August'13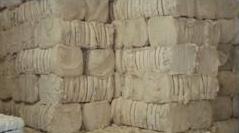 The imports of cotton by China declined by 62,000 tons or 18.3 percent year-on-year to 275,900 tons in August 2013, according to customs statistics.
During the just concluded Chinese cotton season September-August 2012-13, China's total cotton imports stood at 4.396 million tons, registering a drop of 19.2 percent year-on-year.
From January to August 2013, China imported 3.025 million tons of cotton, showing a dip of 19.7 percent year-on-year.
Fibre2fashion News Desk - India