Cotton yarn prices increase in Pakistan this week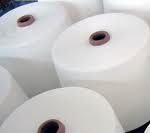 The prices of cotton carded yarn increased in Pakistan this week by around Pk Rs. 3-4/kg, due to surge in demand for cotton from spinning mills coupled with depreciation of local currency.
On Wednesday, September 25, prices of single carded yarn surged by 0.85 percent for 10/1 KW to Pk Rs. 262.11/kg. Prices of 20/1 KW rose 1.46 percent to Rs. 306.17/kg, while prices of 24/1 KW increased by 1.44 percent to Rs. 310.57/kg, and prices of 30/1 KW were up 1.24 percent and were quoted at Rs. 359.03/kg.
Meanwhile, prices of single combed yarn 30/1 CW increased by 0.59 percent to Pk Rs. 374.45/kg, and those of 40/1 CW rose 106 percent to Rs. 420.70/kg, on September 25.
Fibre2fashion News Desk - India