Design Indaba Expo to host top wool textile designers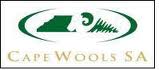 Cape Wools SA supports the local Merino Wool industry and will host some of top wool textile designers on the Design Indaba Expo 2014. (CTICC 28 Feb - 2 March 2014).
African Expressions was born from a desire for Africa to share her natural beauty with the rest of the world.
Through a range of yarns, the brand expresses the essence of that which makes Africa magical.A network of local farmers produce excellent raw materials, to ensure the yarns are naturally soft to the touch and luxurious to handle.
Karoo Moon has a high quality range of hand and machine spun woolen yarn. The SA Merino wool is spun on traditional spinning wheels by women in the Eastern Cape.
The yarn is then dyed by hand, creating jobs and original colour shades. Karoo Moon also offers a range of hand made wool décor items like afghan throws, cushions and more.
Cape Wools