SSM partakes in Techtextil Russia, Textile Asia & Exintex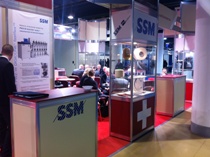 SSM Schärer Schweiter Mettler AG participated at the following exhibitions in spring 2014:
-Techtextil Russia
11 – 13 March
Supporting agent MASHTEXIMPEX
-Textile Asia
11 – 13 March
Supporting agent AHS Textile Machinery
-Exintex
11 – 14 March
Supporting agent Eurotecnica Textil SA
SSM thanks their representatives for their efforts before and during the exhibitions, helping to make the shows a great success.
SSM shared the booth with their representatives and other well-known European suppliers. During the exhibitions, SSM could meet and discuss with many visitors about their well-known products for the textile industries.
SSM thanks everybody that visited their booth and looks forward to future partnerships and collaborations with them.
Schärer Schweiter Mettler (SSM)