Maglificio Ripa launches new HD-print fabric 'Light 2.0'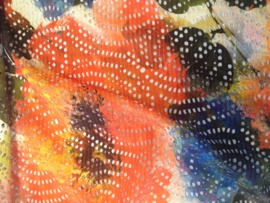 After several months' studying and careful and constant designing, the new-born fabric by Maglificio Ripa has been launched and has made its official debut into the universe of printed fabrics: Light 2.0, a kind of high-definition evolution of the famous Light, that has been and still is so popular all over the world.
The Light Icons family has been today enriched by the addition of a cutting-edge and revolutionary proposal.
Light 2.0 guarantees a high-definition print, a unique and supreme colour performance, a fresh and silky touch as well as UV- and chlorine resistance.
"We had been working for this result for a long time – says Luca Bianco, Managing Director of Maglificio Ripa – and finally we succeeded in achieving it thanks to our premium Style and Design Department, head by Terry Charles and Antonella Serena, both boasting a wide experience in the field of printed fabrics. This is what we are going to offer: an harmoniously balanced and never too ordinary collection, a unique and prompt service and above all special assistance available for exclusivity agreements".
Maglificio Ripa