Stephanie crafts Winter Wool House at World Design Capital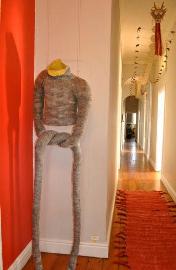 A Winter Wool House was created by Stephanie Bentum from Krafthaus, together with other fibre artists, as part of The World Design Capital initiative.
InAwestays and Krafthaus are two wool and mohair processors and have offered financial support for this event, without any expense to the exhibitors.
A Winter Wool House creates a showcase for textile designers, with the emphasis on wool.
The project aims to stimulate an interest in the design and manufacture of wool and mohair decor items in South Africa and promote the designers internationally, through World Design Capital exposure.
Capewools