CIF Bremen Cotton Index drops continuously this week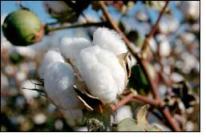 The difference between the New York July and December futures has significantly decreased.
The July quotations continuously dropped in remarkable steps, whereas the CIF Bremen index followed this movement for near dates only limitedly. Despite single and selective inquiries, the textile industry mostly retained its wait-and-see-attitude during the reported week as well.
Common and promptly available varieties were ordered, however; even though covering seemed to be at a good level. Contracts were reported from the new European cotton crop of Greece.
Contracts were concluded for:
-Medium Staple Cotton: Central Asia, West Africa and USA EMOT for prompt delivery. Brazil for prompt and the 3rd quarter 2014. Greece for the 4th quarter 2014.
-Long and Extra-Long Staple Cotton: No reports.
Bremen Cotton Market