THDC displays exclusive Rajasthani craft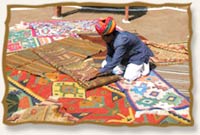 The essence and colors of Rajasthan are made explicitly accessible at an event at Poompuhar showroom in Tamil Nadu. Poompuhar very well known for being the ancient port of Cholas is located in the Sirkali Taluk of Nagai district.

The event titled Rajasthan Craft Fair is organized by the Tamil Nadu Handicrafts Development Corporation (THDC) and will run from January 3 to 19 except on Sundays. The fair will display an array of traditional Rajasthani art including the eye attracting silk thread jewelry.

Rajasthani cloth dolls are lined up in the stalls in different sizes that can be a perfect home décor article. Besides, embroidery dress materials, home linen, silk paintings, furniture, gemstone jewellery and lac and mirror work products were also put up for sale at the expo.

More than 20 artisans from Rajasthan participated in the exhibition displaying their most precious masterpieces and traditional handicraft works. An expected sale of Rs15 lakh is likely to be procured from the sale.