Address of Shri Sanjeev Saran at Export Award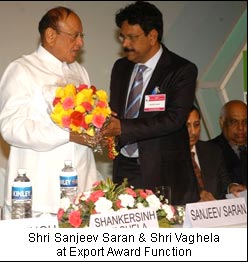 Address of Shri Sanjeev Saran, Chairman At The Export Award Function Of The Council On 15th January, 2008:

It is indeed a great privilege for me to welcome you all this evening to the Exports Award presentation function and Fashion show of the council for the Year 1st April 2006 to 31st March 2007.

I, am especially grateful to The Bapu, and A.K. Singh sab for gracing this function despite a hectic & busy schedule and I know to accommodate us, both of them had to do a lot of maneuvering.

Friends, to night is a special occasion for all of us ,as we are honoring our members for their outstanding Export performance in Man-Made textile items. I would like to take the first available opportunity to convey my appreciation to each of the award winners for their efforts in expanding the exports and congratulate them for their achievement. I am sure it should also be a moment of pride and glory to you .

I, am glad to inform you that despite many constraints, the export of MMF textiles registered an all time High of Rs.11844 Crores during this period, thereby registering a growth of 16% as compared to last year.