Indorama to buy polyester fibers maker Tuntex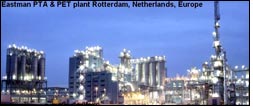 Indorama Thailand announced it expects the strategic initiatives it is pursuing to result in more than doubling of its revenues over the next 2 years to over USD 4.2 billion.

CEO Aloke Lohia noted that the last 3 years saw the group revenue tripling USD 1.7 billion in 2007 compared to around USD 500 million in 2004.

"Going forward, we have a clear strategy for creating significant value," Lohia said, "we are leveraging the greatest strengths we have as an industrial house, the attractive growth prospects of our business and the capabilities of our people to innovate and execute.

We expect to build on our strong earnings by focusing on two additional areas - PTA and Polyester fibers - in addition to the ongoing PET polymers growth."

"We have signed a memorandum of understanding with Rayong based, SET listed - Tuntex (Thailand) PCL to acquire their business consisting of Polyester fibers and filaments. This makes a strategic fit with our existing Thailand based polyester business in Nakhompathom – Indo Poly Ltd.

The revenue from this segment is thus set to rise from USD 131 million currently to USD 600 million in 2010 post a total restructuring exercise." Lohia explained, "we believe we will emerge as Thailand's premier Polyester company in Fibers as well, as we have in PET polymers, and we expect our total polymer production to rise close to 2 million tonnes from 700,000 tonnes in 1997."

Together with Indorama associates in Indonesia and India the total production will rise to about 2.8 million tonnes and emerge as the global leader allowing the group to leverage its scale in all aspects to create customer delight.