UNWTO proclaims Iran as world handicraft hub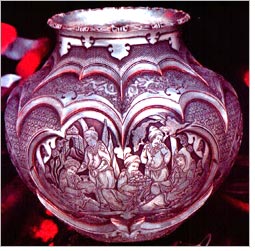 Francesco Frangialli, Secretary General for World Tourism Organization (UNWTO), recently announced and awarded Iran as the world's handicraft hub. So spell bounded was he, by the diversity and exquisiteness of the artwork that he thought there was no place like Iran for exclusive handicraft.

Mr Frangialli saw displays of these Iranian crafts at the 28th edition of 2008 Fitur International Tourism Trade Fair in Madrid.

Praiseworthy reviews also came from UNWTO Deputy Secretary-General, who expressed hope for hosting an International Tourism Fair in Iran very soon.

Moreover, huge number of tourists from various countries also got attracted towards the exemplary collection of craftwork showcased by Iran in Madrid.

If Iran has earned itself the title of being the world center for handicraft, it really must be worthy of the status since UNWTO is the leading international organization in the field of tourism, serving as a global forum for tourism policy issues.