Domestic silk fabric attracts foreign buyers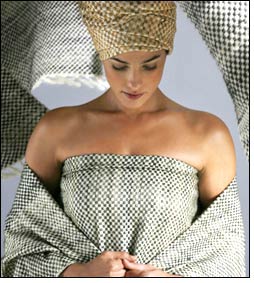 The concept of 'Ahimsa' being very popular for its patriotic essence is rapidly being adopted in every sphere of day to day living including the aspect of textile manufacturing.

Awareness about ahimsa silk, a fabric made without killing silkworms, is generating widespread appreciation from countries like US, Europe, Japan and Australia.

Staunch and ardent towards their love for animals, these countries have a huge demand for this silk fabric.

Quite unlike the usual silk material, which requires killing 1,500 silk worms to produce just one meter of cloth, Ahimsa silk is made from the cocoon left behind by the moth after completing its life-cycle.

Even though the idea of ahimsa silk originated in India, the country is yet to get acquainted with its nuances. Silk promoters are now seeking the help of Government for making this fabric acceptable to the masses on a large scale.

On the contrary, foreign countries are making the most of this fabulous invention. According to the Pune-based Ahimsa Peace Silk Pvt Ltd, over 60 percent of their business comes from the US while products are also exported to Europe, Japan and Australia.

The company's commercial production of ahimsa silk started in 2000 and in the years that passed, its capacity has increased from 1,000 meters per annum to 5,000 meters per month.