GCA organizes 'Asian Chemical Leaders Summit 2008'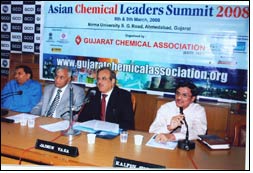 It is a powerful idea waiting for an action. With an objective to provide a strong and creditable platform for the business leaders and decision makers, industry experts and policy makers and to exchange their views and knowledge, GCA an apex body founded by a group of visionaries from Chemical Industry announced it's plans to organize "ASIAN CHEMICAL LEADERS SUMMIT – 2008".

The summit which is a first of it's kind will be held between 8th – 9th March, 2008 at Nirma University, Ahmedabad.

The 2-day summit promises to be an ideal ground to network with local and global participants. Industry leaders and Champions associated with Chemical, Petrochemical, Pharmaceuticals, Dyes and Intermediates, Paints, Agrochemicals, Specialty Chemicals, Fertilizers etc. industries will discuss the emerging scenario of the future and it's associated challenges.

Chemicals are at the core of every single organism dead or alive! It's equally true for any manufacturing industry where chemicals make definite impact to it's healthy growth and survival.

Chemical Industry is growing at a rapid pace and Asian Countries have significant contribution in the global chemical trade.

The growth of China and India in the last two decades has been noticeable and highly rewarding. The proposed summit is an attempt to understand and appreciate the future scope for business between these two giant Asian economies and also by these global leaders with the rest of world.