EDANA-BCH to announce next training courses dates shortly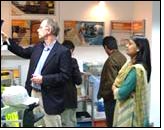 As a result of the successful "première" which took place in 2006, EDANA, in cooperation with BCH, returned to India in 2007 to give their training courses on Nonwovens and Absorbent Hygiene Products for a second time.

Taking place during the week of 1 December 2007 in New Delhi, these 2-day training courses provided a unique opportunity for India's newcomers to the industry to quickly gain a complete understanding of the various technologies, processes, raw materials and market aspects of nonwovens and absorbent hygiene products.

Geared towards the specific needs of senior management, this high-level education session, held in India for the second time, attracted almost forty marketing and technical/R&D executives from nonwoven producers, suppliers and converters, as well as potential investors.

Pierre Wiertz, General Manager of EDANA, commented that, "With the training courses we offer our member companies the opportunity of training their local staff and enable potential investors to understand the distinct character of nonwovens as a capital-intensive industry, as well as highlighting opportunities and options in nonwovens technologies.

In turn this allows them to make a more enlightened choice, thereby possibly avoiding mistakes that can negatively impact markets, for example. lead to overcapacities etc. in the development of nonwovens in India."

India, with a population of over a billion people, of which above 300 millionare middle class with high living standards and significant purchasing power, has the potential to develop a healthy, competitive and open nonwovens market that provides opportunities to both domestic and foreign direct investments.

EDANA has already seen a growth in nonwovens applications such as automotive, interlinings, agriculture and medical nonwovens. Geotextiles, especially, are expected to grow rapidly since over the next five years.