Dr. U D Choubey receives Amity Lifetime Achievement Award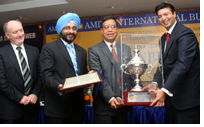 Dr. U D Choubey, Chairman and Managing Director, GAIL (India) Limited has been given the Amity Lifetime Achievement Award. The Award was given to Dr. Choubey during the INBUSH event of Amity University.

The Lifetime Achievement Award has been given to Dr. Choubey in recognition of his outstanding contribution to the overall development of social and business economies.

Dr. U.D. Choubey is a Post Graduate in Chemistry, MBA in Marketing and holds a Law degree. He holds a Ph.D. in "Hydrocarbon Derived from Coal and Petroleum" from ISM Dhanbad.

Dr. Choubey has over 30 years of experience in Energy Sector particularly in Natural Gas and also in Fertilizers & Chemicals.

He has authored a book titled "A Text Book on Natural Gas". He has presented papers at several International Gas Conferences and chaired sessions in the international prestigious conferences/seminars.

Dr. Choubey has received the Distinguished Fellowship Award of Institute of Directors (IOD) in August 2007 for his contribution in the field of natural gas marketing and market development.

Besides, Dr. Choubey has also received Graduate School of Business & Administration Top Rankers Excellence Awards in November 2007 in the Achievers Award 2006-07 category.

During the last one year under his leadership, GAIL has initiated several new projects aimed at consolidating its premier position in the industry.

This includes the doubling of company's transportation network from the existing 6,000 km to about 12,000 km by 2011.