Report of ITMA ASIA + CITME Visitor Road Show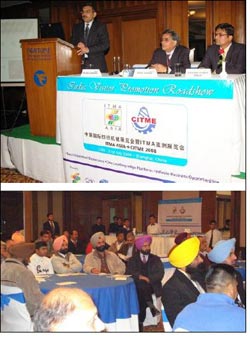 ITMA Asia + CITME 2008 show authorities recently concluded a major Visitor promotion campaign in India with an objective to introduce the combined event to Indian visitors and invite the various textile machinery buyers to attend the event. ITMA ASIA + CITME 2008 Visitor road show was a part of a series of Indian Visitor promotion activities which includes Press releases, Advertisements in Trade Publications, Web based promotion etc.

The India Visitor Promotion road shows was organized in association with Orbitz Business tours and the delegation was led by Ms. Zheng Yan and visited major textile industry hubs of Coimbatore, Erode, Tirupur, Madurai, Mumbai, Ahmedabad, Surat and Ludhiana.

Ms. Zheng introduced the combined ITMA Asia + CITME 2008 show to intending trade visitors from India and mentioned that the event is scheduled at Shanghai for five days, from July 27 to 31, 2008 and will be the biggest gathering of Textile Machinery customers and suppliers in Asia. She also mentioned that over 1200 exhibitors covering more than 120,000 sqm exhibition space will be displaying the best of global textile machinery and no other exhibition in China has the support of CEMATEX or CTMA.

Coimbatore was the first stop for the India Visitor promotion campaign on 22nd January 2008 and was well attended by over 50 persons. While making the presentation, Ms. Zheng showcased the event highlights by mentioning that ITMA ASIA + CITME 2008 event shall offer Textile machinery buyers from India the largest range of machineries from all over the world and they will have the opportunity to check live performance before confirming their purchase decisions.

Second presentation was held at Erode on 23d January 2008 and the attending textile fraternity was also addressed by Power Loom Development and Export Promotion Council (PDEXCIL) Chairman M.S. Mathivanan who encouraged the Indian Textile Industry to modernize and advised all attendees to attend the mega ITMA ASIA + CITME 2008 event and finalise their machinery purchase plans.

The presentation at Erode was also attended by Mr K Marappan, Managing Director of Erode Hi-tech Weaving Park (EHTWP) which is being developed under the Indian Central Government supported scheme of integrated textile parks (SITP). Mr K Marappan discussed the requirements of textile units which included spinning, weaving, garmenting and knitting machinery and was pleased to know that ITMA ASIA + CITME 2008 event shall showcase machineries in all these areas.